I Quit A Great-Paying Job I Loved To Rollerblade Across America
It's 2:32 in the morning in a lonely dust field that this small Nevada town is attempting to pass off as a public park. My tent is tucked into the only brush I could find in the area in hopes of avoiding the attention of the local neighbors and police.
I'm jolted awake from my exhaustion-induced sleep to bright lights and the sound of what I can only imagine must be an inconveniently-timed Civil War reenactment. But it's not. It's a train. Headed directly towards my tent. Holy shit, it's a train headed directly towards my tent!
I frantically attempt to unzip the tent's flaps before accepting there's just not enough time to save myself. What a dumb way to die, I think, in between belting out expletives. And then the train passes by me. Fortunately, it turns out I am not camped on the tracks, just directly beside them. I didn't even realize there were train tracks in this park.
I lie my sweat-sticky body back down on my sleeping mat. I have another 50-plus miles to rollerblade tomorrow and the desert sun will soon be above me. I realize I just peed myself a bit. That's OK because ― most importantly ― I've never felt so alive.
Hi, my name is Mike, and I am rollerblading from one end of the United States all the way to the other end.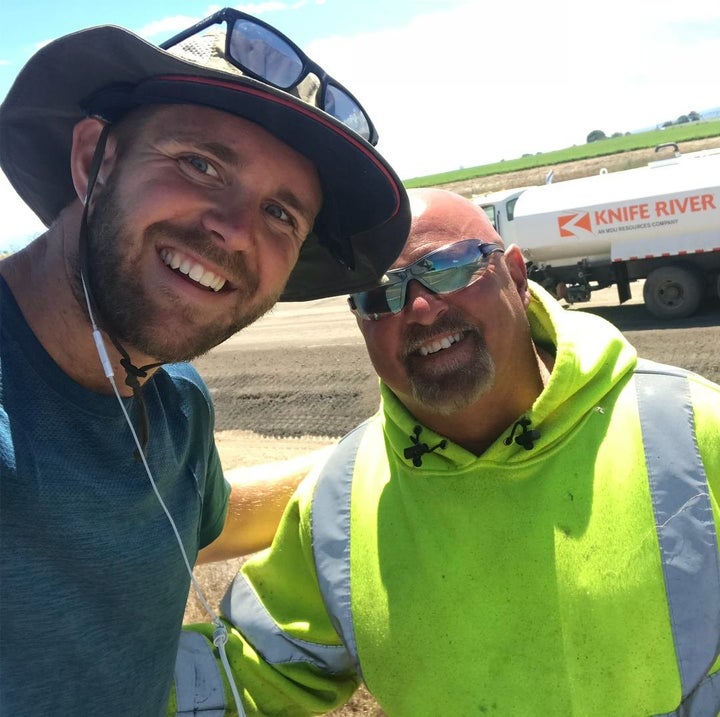 But before we go any further, let me explain how I got here.
On Memorial Day of this year, I set out on a pair of rollerblades from East Beach in San Francisco toward the Atlantic Ocean. Just 90 days prior, I was gainfully ― and comfortably ― employed in the advertising sales industry in Denver, Colorado.
My decision to undertake this adventure did not happen overnight. My whole life has led me to this point. Well, maybe not my whole life, but at least the last two years.
In March 2016, a friend and I took a trip to visit two of our best friends who were living in Australia. Garrett and Sean were playing semi-professional lacrosse while working relatively not-so-great jobs as electric meter readers in Adelaide. They told stories of drudging through 100-plus degree heat and dodging massive dogs and poisonous spiders on a daily basis while zapping the meters of residents in a country they weren't citizens in. And they were loving it!
I thought to myself, Shit ― I'm 25. I should be doing something like this. I certainly had nothing to complain about at the time. I had a great-paying job in a city I loved doing something I was skilled at. But I had my whole life to do that. The corporate ladder wasn't going anywhere, but my youth was. I told myself I would not get to 30 and look back on my 20s and regret not having traveled.
So, after one week back in my corporate office, I set the timeline for two years and began saving. After two years, I promised myself I would quit to find an adventure. As for what that adventure would be, I didn't know yet.
I had a great-paying job in a city I loved doing something I was skilled at. But I had my whole life to do that. I told myself I would not get to 30 and look back on my 20s and regret not having traveled.
Meanwhile, in my spare time, I was rollerblading everywhere. With each trip out the door, I'd push the number of miles I bladed further and further. I made it 50 miles in a day, then 60 miles, and eventually I bladed 80 miles up into the Rocky Mountains. I found myself wondering, If I can do this, how far could I possibly go? People bike across the country all the time …
Over the next year, that thought began to dominate my thinking more and more. I'd lie awake late at night wondering what it would be like to rollerblade the hills of California and the Nevada desert. I wondered what it'd be like to sleep on the couches of strangers I'd meet along the way. I wondered what it'd be like to define my life by each town I encountered along the highway as I bladed from coast to coast.
I finally decided that I had to do it. It got to the point where I felt I had no choice. I believed if I didn't at least try, I'd spend my whole life wondering, What if? and I knew I couldn't live with that.
In October of 2017, I gave my company a six-month notice (which was probably excessive). And then I began my planning, which was possibly even more excessive. I read books written by people who walked, bicycled, motorcycled unicycled ― you name it ― across the country. I hunted down anyone who had rollerbladed large distances before, spent nights obsessing over gear lists from outdoor junkies, and burned enough hours in the gym to finally make my middle school gym teacher proud. When the day came to put on my blades at the San Francisco beach, I felt ready. Or, at least as ready as one possibly could be to embark on a 3,800-mile rollerblading trip across America.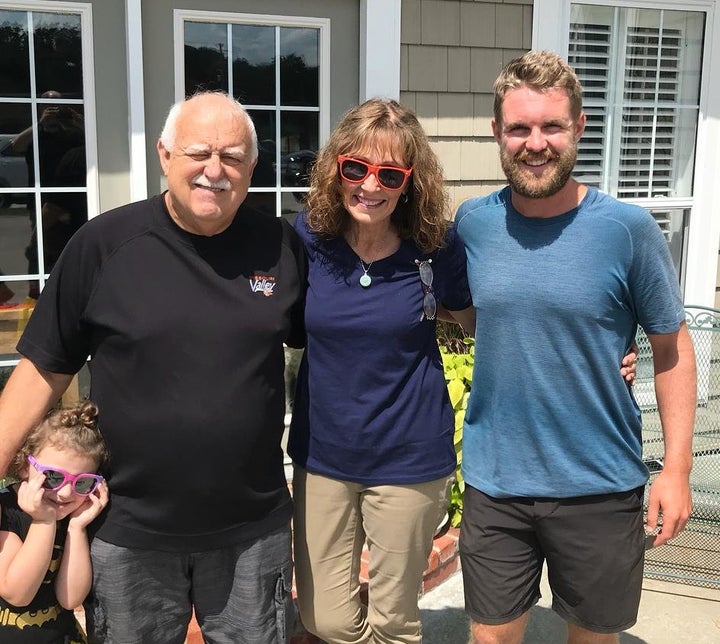 Before I left, I thought the honeymoon phase would last through at least the first few days on the trip. I mean, after several years of heading into a cubicle to start each week, my next few months guaranteed an open road to start every day. What wasn't there to be excited about?
The honeymoon ended on the first day. I had a near panic attack exactly 23 miles into my journey as the magnitude of the trip fully dawned on me while I was climbing American Canyon in 97-degree Cali heat. What the hell had I just gotten myself into? I worried. Little did I know I would soon consider that first day to have been easy.
Throughout this past summer, my 40-pound backpack and I have managed to climb both the Sierra Nevada and the Rocky Mountain chains. We've hit an extremely questionable 43 mph at points and melted on flat, seemingly endless Kansas roads together. On some days, we (mostly me) sweat our entire soul out on swampy Missouri hills, only to replenish myself and sweat that same soul out again the very next day. I found new levels of will and perseverance unlike any that I have experienced before and they continually helped me to continue on my trip.
One of the questions I've heard most frequently leading up to and during my adventure has been, "Aren't you worried about the crazies out there, or all of the crime and murder you see on the news?"
I've generally had a pretty optimistic view of people. I'd be lying if I said my friends' and family's concerns about who I might encounter didn't factor into my list of the trip's possible dangers. In my mind, humans worried me more than climbing mountains, but less than trucks, inclement weather or desolation. And while I have found myself in a few hairy situations, I am not exaggerating when I write that I have experienced 100 percent positive human experiences on this entire trip from encounters with people of all walks of life. Perhaps more often than not, the ones that helped me the most could be said to those who lean toward the rougher side of society ― the town drunk, the ex-convict, the over-stimulated trucker. I have quickly learned to check my judgment at the door when meeting new friends because I really never knew where a helping hand or my next bed may come from.
I've learned that America is a country where if you approach people with an open mind, you'll be surprised by the kindness and love that they are willing to share in return.
Naive or not, this trip has brought me to the point where I now find myself trusting every person I meet and I assume they are already my friend before I approach them. There is no need for my trust to be earned. And I believe approaching people with this philosophy earns their trust back. I've found they want to do good by others when they're extended that level of trust and friendship. What divides us in this country is minuscule when compared to what connects us. And while every person may not be "good," I have found that nearly every person wants to do good, especially when given the opportunity.
Take, for example, a tough night I experienced in Illinois. I had just finished a 77-mile day ― a new trip high ― with several hills and rough roads along the way. I had no options on the horizon for lodging that night, but with storms in the area, I was not dying to blade the additional few miles out of town to camp in a public park after dinner.
I hit the local bar to go to "work" (finding a bed often felt like a second job) and have dinner. As I was "working" during my meal, sleeping opportunities were looking bleak … until a local drinking enthusiast started pressuring me into taking tequila shots with him. He offered one, and I obliged. And while I normally elected to pass on drinking too much because nothing is a worse rollerblading companion than a hangover, I caved when he offered me a second shot. Once that shot was down, he yelled out, "Anyone who can skate here from San Francisco and put back two tequilas is good in my book. You're sleeping at my house tonight!"
A new friendship ― and a safe bed (well, recliner) — had been secured!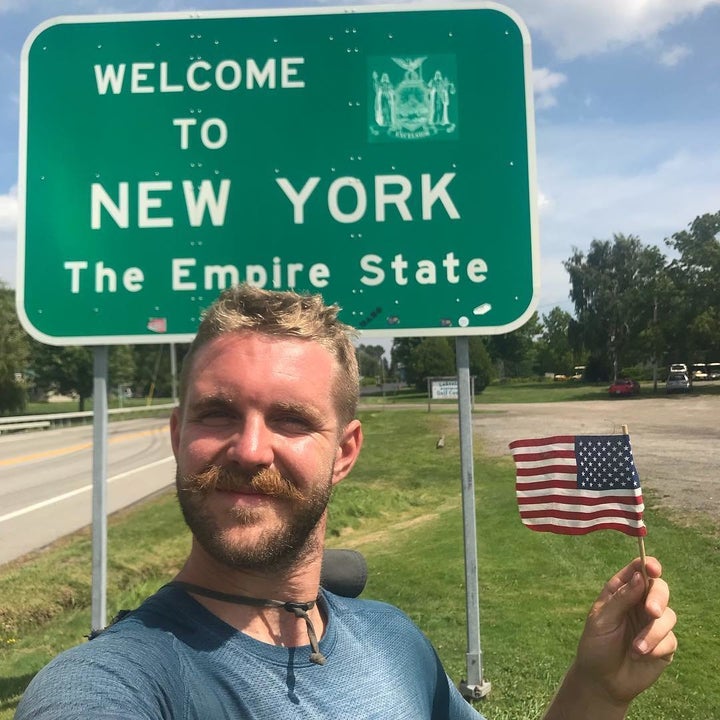 So, while the adventure itself has been everything I could have asked for ― and more ― it's moments like that one that have made this trip the most rewarding experience of my life. What's more, I've learned that America is a country where if you approach people with an open mind, you'll be surprised by the kindness and love that they are willing to share in return.
I wrote this essay in Albany, New York, as I waited for a rainstorm to pass through town. Unlike the "crazies" I was supposed to meet out there, rain was my most formidable enemy. At that point, I had completed 3,385 miles of rollerblading and had less than 200 more to go before reaching the Atlantic Ocean.
As I closed this chapter with my final strides, a new chapter of my life began. I hit the road looking for adventure, but what I found much more than that. I found new meanings for trust and stewardship. I found a way to welcome strangers into my life. I learned to leave my personal judgements behind me and to allow people to come to me as they are. And I learned to dream without fear. I'm excited to take these new lessons as I move forward and apply them to whatever is next for me but, at least for a little while, maybe not on rollerblades.
Throughout his travels, Mike raised money for the nonprofit No Kid Hungry. To learn more about his journey across the U.S., visit him on Instagram or head to his website.
Do you have a personal story you'd like to see published on HuffPost? Find out what we're looking for here and send us a pitch!